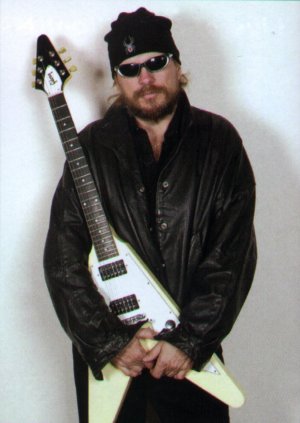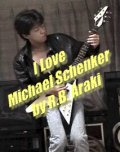 Michael Schenker Interview: The latest issue (August) of Young Guitar magazine has a 3-page new interview to Michael Schenker with playing analysis of 'Never in My Life'. Main topic of the interview is The Endless Jam album. Some of his comments are as follows (please note that the following is my translation of the Japanese text of the interview and not what Michael actually said in English):
It was Mike Varney's idea to make this album. Among the records I've made, it was the one I enjoyed the most. All I had to do was just go to the stduio and do lead plays. The outcome was greater than I expected.
I don't like jam sessions. This CD was not a jam session, but it was a 'recording' well planned by Mike Varney. As he put too much energy on this album, he became too emortional while I was playing lead, and he sometimes couldn't be by my side. I think he was sheding tears. This is a serious album to that extent.
Mike prepared everything including song arrangements and selection of singer (Davy Pattison). I met Davy Pattison at the photo session, but never did rehearsal or recording with him. I had not known him. At least I had not met him before.
All songs were selected by Mike. Coincidentally, he chose some I like very much such as numbers of Procol Harum and Mountain.
If I had had to select songs for a cover album under my initiative, of course I would have selected something different from those Mike selected. I would have chosen 'What A Wonderful World' (humming) by Louis Armstrong or 'Imagine' by John Lennon. There are too many songs I like. So, I don't know where to start. However, as I mentioned earlier, 'Sapes of Things' and 'A Whiter Shade of Pale' are my favorite. I like 'Theme for an Imaginary Western', 'The Stealer' and 'Built For Comfort' very much.
The recording took place on December 26 or 28 if I remember correctly. I don't remember how many days it took but it didn't take long because all I had to do was play lead breaks and I am good at doing that.
I didn't do any preparation before the recording. I was given backing tracks beforehand, but I didn't listen to it because I wanted to do the recording with fresh feelings. I even didn't listen to the original songs. If I had listened to the originals, my playing might have been similar or boring. I could do my style of playing and I enjoyed it at the same time. I cannot enjoy music if there are too many restrictions. The reason why I cannot accept offers from other bands including Ozzy Osbourne. I have to be totally creative and be in a condition where I can freely express myself.
What was on my mind was to play my own lead play. For example, Leslie West's lead play on 'Theme for an Imaginary Western' is one of my favorite solos in my life. I copied the entire solo when I was 17. I tried to play with my style/feeling while feeling the spirits of the original guitarists. It was like I dated back to when I was a guitar kid.
Besides Leslie and Jeff Beck, I liked Eric Clapton, Jimmy Page, Tony Iommi, Ritchie Blackmore, Andy Powell, Jonny Winter, Rory Gallagher, and many more. I like all the great guitarists of late '60s to early '70s.
In those days, most of the guitarists played bluesy phrases with lots of feeling. Every note had a maning. Of course, I liked their sound. As I was a guitar fanatic, I was keen about all of them.
I didn't like Jimi Hendrix very much. He died when I was only 15. At that time, Jeff Beck and Jimmy Page had more meaning to me. Maybe they were more melodic.
(Asked if you have ever inspired by Paul Kossoff) I liked Paul Kossoff's powerfull rhythm play. But I didn't like his lead play so much because of his fast nervous vibrato. I don't like fast vibrato. I was not sure whether 'Stealer' is a song of Free or Bad Company. Interestigly, when I was playing the solo, I was thinking about Mick Ralphs (of Bad Company). Is that really a Free song?
I didn't do recording with Leslie together but we talked about our playing on this CD. He told me that, as he thought I played more like him than his own play, he only played slide instead of doing lead plays on 'Theme For An Imaginary Western'.
At the studio, I played Flying V, Les Paul and Ibanez guitars with Marshall Amp. Mike brought all the guitars. Later I bought two brandnew Flying Vs. It was the first time for me to buy guitars at the shop. Usually, mass-produced models do not sound adequate. So I like to play them after they are broken as repair men carefully fix them like making them custom-made models. But these new Vs sound excellent. So I think I am going to use these Vs for the next MSG album.
(About the 25th anniversary MSG album with original singes) I don't know yet who will participate. I will contact one by one. And, I would like it to be completed within this year.
I stopped using 7-string guitar. I used it for Schugar/Schenker project, but when I used it at the rehearsal, I got into a mess very much because there were as many as 7 strings.
More Uli Tour Dates Confirmed: The following are the first confirmed dates of

Uli Jon Roth north America tour 2004

and more to follow soon. It is very likely that MSG will also play on all dates. Thanks for the info, Batttttty.
| | | | | | |
| --- | --- | --- | --- | --- | --- |
| Thu | 08/26/04 | | Los Angeles, CA, USA | | House of Blues |
| Fri | 08/27/04 | | Ventura, CA, USA | | Ventura Theatre |
| Sat | 08/28/04 | | Sacramento, CA, USA | | The Roadhouse |
| Sun | 08/29/04 | | Concord, CA, USA | | Cadillac Ranch |
| Fri | 09/10/04 | | Chicago, IL, USA | | House of Blues |
| Fri | 09/17/04 | | Springfield, VA, USA | | JAXX |
[07/08/04 update]
As Seen on Official Website: Those three tour dates reported here yesterday are now listed on MSHimself.com.

[07/07/04 update]
MSG/Uli Tour Dates: Although it has yet to be officially confirmed, two more dates in addition to the one in Springfield (cf. 06/21/04 update) are listed on Pollstar.
[07/06/04 update No.2]
Michael Schenker - Baron Rojo Connection: If you look at the credit of Built To Destroy album, you will find that Red Sky was written by Schenker/Barden/Glen/McKenna/J.Luis. This J.Luis is Jose Luis Campuzano ("Sherpa"), ex-Baron Rojo bassist/vocalist. Also, on their latest album titled "Perversions", which was released in 2003, Baron Rojo covered Assault Attack. Thanks for the info, Francisco.

[07/06/04 update]
Michael Played Les Paul in Barcelona!!!!: Michael Schenker appeared on stage of the Baron Rojo's gig in Barcelona on June 24th. Baron Rojo opened for the concert of Judas Priest took place at the Pavello Olimpic de Badalona on that day. The show review can be found on this site (Spanish). You can see photos of Michael playing Les Paul of Carlos de Castro (guitar player and vocalist of Baron Rojo). They did MSG's classic number 'Assault Attack'. Michael and Armando de Castro (a lead guitarist of Baron Rojo) played the guitars and Carlos de Castro sang the song. Sounds like the author is not pro Schenker, but the fans haven't got the same opinion. Thanks for the info, Francisco!!

[07/03/04 update]
Uli's Tour With MSG Officially Confirmed: According to the latest news section of Uli Jon Roth's official website, it has been officially confirmed that Uli will do an American tour starting at the end of August. The tour will comprise of approximately 20 shows and Uli is co-headlining together with MSG. Some of the concerts are also going to feature GEORGE LYNCH. Both Uli and Michael are going to play a full-length set each and then share the stage together for the finale. All the confirmed dates will be announced on his website shortly.

[06/28/04 update]
Uli Confirmed A Plan for Tour with MSG: According to Q&A section (Question No.38) of Uli Jon Roth's official website, Uli mentioned "Tour dates for North America are being negotiated as we speak. We hope to be able to confirm a tour very soon. The time period will be from the end of August until the end of September starting in San Francisco, California. It will be a co-headlining tour which includes MICHAEL SCHENKER GROUP and - in some cases - GEORGE LYNCH. As soon as this is in black and white it will be officially announced on our news and tour pages. " Thanks for the info, Rich! (related entry: 06/21/04)

[06/25/04 update]
MSG Korean Dates Cencelled (Cont'd): According to Chris Logan, the MSG dates in Korea have fallen through "due to the fact that the promoter defaulted on the terms of their contract with our agency."

[06/24/04 update]
MSG Korean Dates Cencelled: According to Chris Logan, unfortunately, the MSG dates in Korea have fallen through due to a problem with the promoter. Michael and Chris will post an official release on it in the next day or so.

[06/21/04 update]
Michael Schenker Plays with Uli Again!!!!!!!!!!!!: According to a website of Springfield, Virginia-based concert hall called JAXX, Uli Jon Roth and MSG will play there on September 17. It seems they each do a set and then jam together. Thanks for the info, Cutler!!!
| | | | | | |
| --- | --- | --- | --- | --- | --- |
| Fri | 09/17/04 | | Springfield, VA, USA | | JAXX |
[06/17/04 update]
MSG Poland DVD: According to a company executive of Metal Mind Productions, release dates of the MSG's new DVD titled "WORLD WIDE LIVE 2004-DVD" are almost fixed as follows:

Japan - September 23, 2004
Poland - October 4, 2004
Europe - October 4, 2004
USA - October 5, 2004
Rest of the World - October 11, 2004

You can order the DVD from www.metalopolis.pl

[06/15/04 update]
MSG Shows In Korea - Now Official!!: According to Chris Logan, MSG's July dates in Korea are now official. Tour Lineup is same as that of the privious tour. These dates are also listed on Pollstar.
| | | | | | |
| --- | --- | --- | --- | --- | --- |
| Fri | 07/16/04 | | Cheonin, South Korea | | Independence Rock Festival |
| Sat | 07/17/04 | | Cheonin, South Korea | | Independence Rock Festival |
The tour lineup:

Michael Schenker - Lead Guitar
Chris Logan - Vocals
Wayne Findlay - Guitar/Keyboards
Rev Jones - Bass
Pete Holms - Drums
[06/14/04 update]
MSG Poland DVD.: According to Shinjuku Records, they are now accepting pre-orders of THE MICHAEL SCHENKER GROUP "WORLD WIDE LIVE 2004-DVD" (NTSC). They will notify the arrival of DVDs on their website.

[06/12/04 update]
MSG Shows In Korea & U.S.A plus Poland DVD: According to Chris Logan, MSG has got some tentative July dates in Korea being worked out, and hopefully about 6 weeks of shows in the U.S. for later this summer. He'll post more info on all of that as soon as it's available. He also commented on recenet MSG shows in San Antonio and California. A DVD shot at the Katowice, Poland show should hit European stores by the end of June, but he said U.S. distribution will come later on, but no word yet as to when, or who will distribute it.

[06/11/04 update]
MSG Shows In Korea!?: MSG's new tourdates are listed on Michael's official website:

FRI 07.16.04 CHUNAN, KOREA INDEPEDENCE(INDEPENDENCE?) ROCK FESTIVAL
SAT 07.16(17?).04 CHUNAN, KOREA INDEPEDENCE ROCK FESTIVAL